Jaffaria Football Club
Led by: Mariam Datoo, Director of Sports
A weekly structured football club for Boys & Girls (trained separately) delivered by FA qualified male and female coaches.
To register for the club please click on this link
For any question or suggestions please email [email protected]
Note: the girls club is currently on hold and will restart as soon as possible.
Jaffaria Academy in the Media – Karbala TV
Jaffaria Football Club has made the news recently on Karbala TV
Jaffaria Academy Sports Hub 
Led by: Mariam Datoo, Director of Sports
A weekly social sports session for Boys & Girls (played separately) which includes the following sports:
Football | Basketball | Volleyball | Badminton | Hockey | Cricket | Fitness | Boxercise | Taekwondo

JA Social
Led by Mustafa Masood (Boys)
Led by our JA Team (Girls)
The aim of this monthly in-person event is to create social gatherings for our Jaffaria Academy students and their friends, and to nurture the development of our students' social and cultural skills.
Art
Led by Hasan Raza, Fine Artist and Illustrator
Weekly sessions which explore the following themes:
Fun with Funny Lines & Shapes | Crafting | Stippling Drawing | Contour Drawings | Blind Contour | Creating fun characters with shapes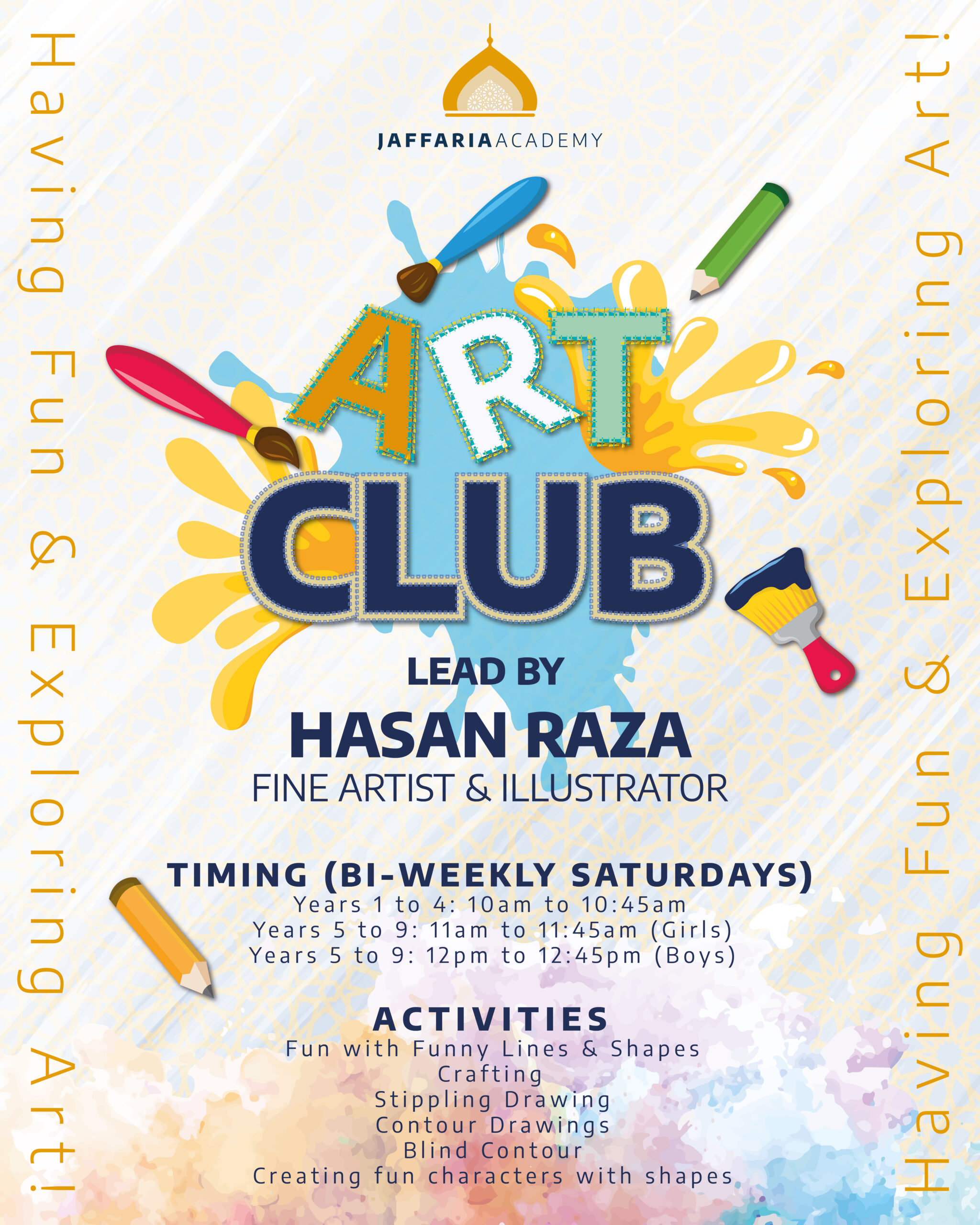 Digital Art & Design
Led by Hasan Raza, Fine Artist and Illustrator
In these lessons, students will learn how to draw and design digitally with step-by-step instructions. They will have lesson objectives for each session, starting from understanding the software, foundational knowledge of digital art and design and finally delivering projects i.e logo design, poster design, illustration and much more!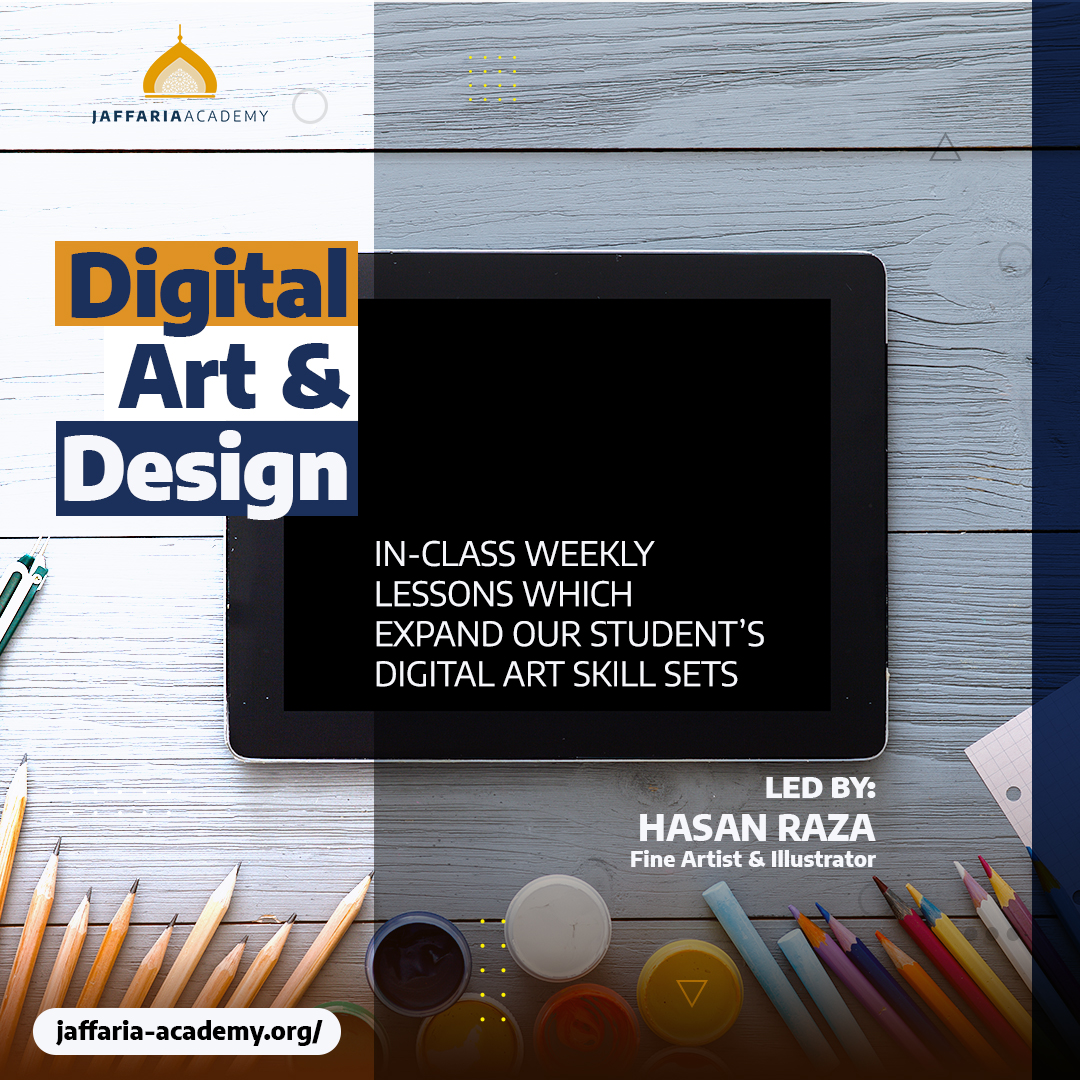 Creative Writing
Led by Zahra Milani (PGCE English)
Great orators infiltrate our Islamic history. Starting from the Prophets of the Almighty and following through with our beloved Imams, their holy mothers, sisters and children, we have numerous traditions that guide and encourage us to seek knowledge and transmit what we have learnt to others. What cannot be dismissed, is that all great orators also have the ability to write their thoughts down in a creative and persuasive manner.
Once a week, your child will attend the Creative Writing Club to ensure that they learn the methodology and science behind expressing their opinion and thoughts in a matter that suits their ability.
Their work will be marked and edited and they will then be encouraged to verbally share their writing with others in the club.
A competition will be held at the end of each term, where students will compete with one another in reading out their creative writing; be it in the shape of a poem, speech or narrative writing.
Baking Club

 
Bake, Eat, Enjoy! 
Lead: Tayebeh Nawrozzadeh
Weekly sessions for Jaffaria Academy students and their families. We strongly encouraged the whole family to attend to create fun at home!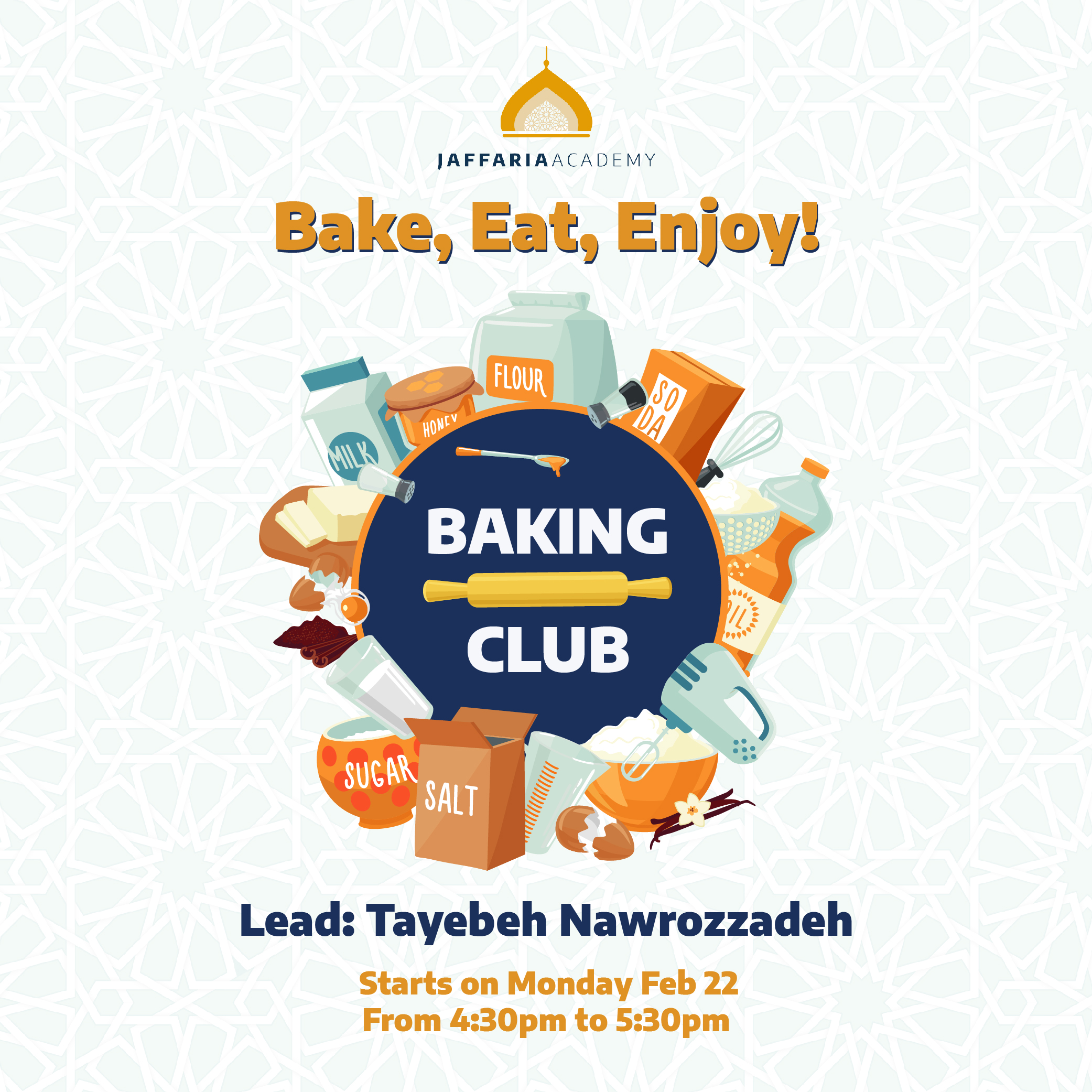 Family Day 
An event where families were invited to meet our management team, teachers, and other families at our head office where we relaxed, socialised, and enjoyed some snacks.