SPIRITUAL & MORAL DEVELOPMENT
At Jaffaria Academy, we combine an excellent academic program with a Shia Ithna-Asheri Islamic ethos. We nurture our students' spirituality by creating an environment through which they learn their values and form their Islamic identity. The holistic Islamic Education program we offer, comprises of the following elements:
Islamic Studies (MCE Tarbiyah curriculum):
This is delivered through weekly structured lessons which covers a wide variety of topics including: Aqaed (Beliefs), Fiqh (Islamic law), Akhlaq (morals and ethics) and History.
Academic Classes:
Every half term we run a theme throughout the school (i.e. Self-Purification, Imam Zaman), and students will be asked to integrate elements of those themes into their academic studies through projects, presentations, and other activities. Teachers will in turn highlight these themes throughout their lessons.
Morning and Special Assemblies:
We have a daily assembly where students read Quran, recite a Duaa (prayer) and learn about various Islamic topics. Our special assemblies include the commemoration and celebration of significant figures and historic occasions. Our students are given the opportunity to present their work both collectively and individually.
On numerous occasions, our team was blessed with a Ziyarah recited live from the holy shrines of Imam Ali (as) and Imam Hussain (as) exclusively organised on behalf of our students, their families and our team. Please see the link below as an example, which was live from Karbala during the commemoration of the birth of Imam Zaman (AJTF).
Story Time:
Book and Adventure is Jaffaria Academy's book club that allows the children to delve into fables and Islamic literature. These sessions are facilitated by experienced individuals that guide our students into extracting faith-based morals while they develop a love for reading and storytelling.
Friday Enrichment:
These weekly sessions enable students to meet scholars from around the world and have a chance to ask questions, engage in open discussions, receive a structured Quran lesson and participate in Islamic studies.
Salah Assessment:
This is an after-school activity where students meet with scholars and teachers to assess their Salah and learn more about the steps involved (i.e. Wudhoo, Athan, Iqama, Salah). This is an opportunity for the students to develop their knowledge of the Fiqh related to salah as well as gain an insight into the spirituality of Salah.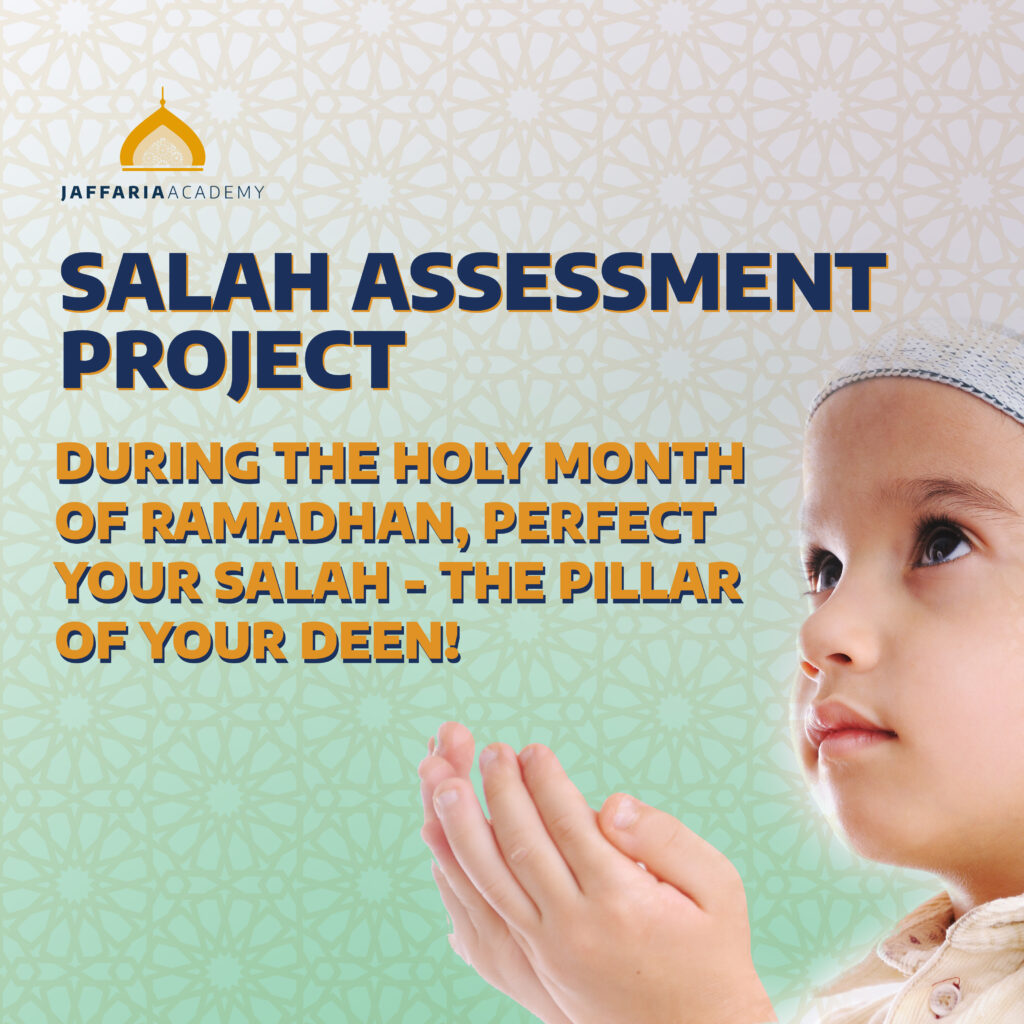 Ziyarah Trip:
This is our annual trip to the Holy Sites and includes meeting with our senior scholars. Our students from across the world and their families will be encouraged to join this trip to create wonderful memories and everlasting bonds.
View Ziyarah Trip 2022 Highlights:
The Holy Qur'an Series
Jaffaria Academy is honoured to present the Holy Qur'an series. This is a set of HD video clips of the Holy Qur'an which include the following: 
🔸Juz 30 + other Surahs
🔸English and Arabic subtitles
🔸Scenes from the holy shrines 
Full playlist:
https://www.jaffaria-academy.org/quran-playlist

Scholarly Guidance:
At Jaffaria Academy we are blessed to have the support of esteemed scholars from our local community in the UK as well as senior scholars in established institutions from around the world. For opinions of Islamic Law (Fiqh) we follow the opinions of his Eminence Sayed Ali Al-Sistani.
The Radiance Podcast:
In this episode we provided parents with a variety of ideas and suggestions on enhancing the Ramadhan experience within the home. As many mosques remained closed, the spiritual growth and observations took on a much more personal touch within our households. We discussed ways to set family goals, draw out the skills and talent of our children, and create significant memories in these unusual times.